Swimming / Snámh
Great fun is being had at swimming every Tuesday at Sligo Regional Sports Complex. Swimming teachers Eithne, Olga and Gary are very impressed with our students progress each week.
Tuesday 15th February saw us return to Swimming lessons for the first time since March 2020. All classes from 2nd. to 6th. attended. It was great to see the children all enjoy being back in the pool after such a long time. Some were a little "rusty" but even after just two sessions many have improved and all are feeling much more comfortable and self-assured in the water. Maith sibh uilig!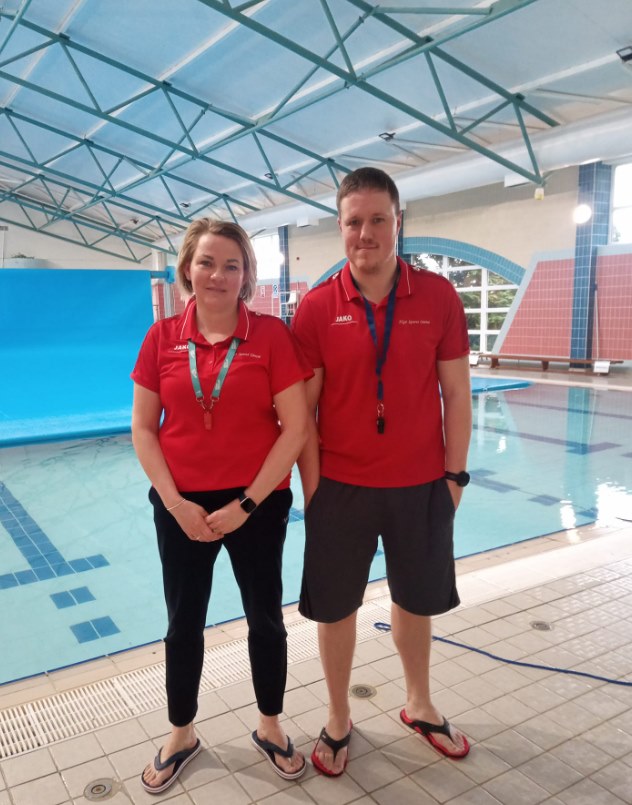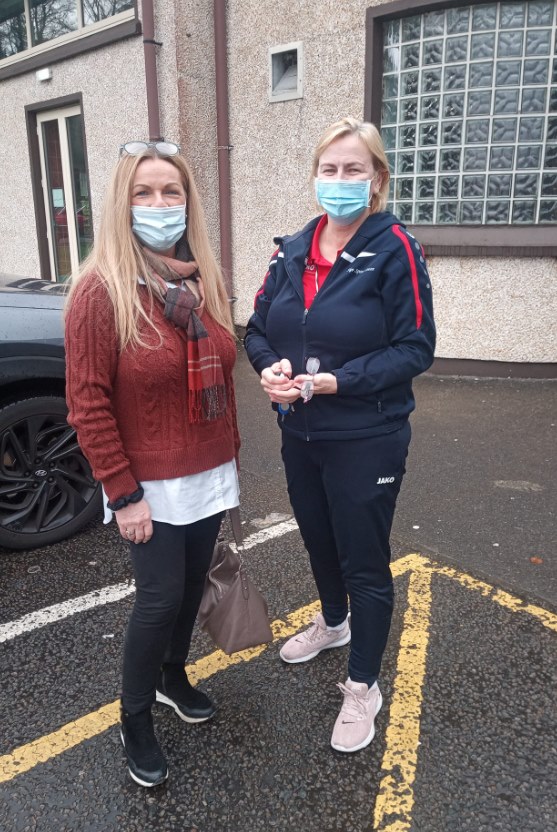 Tennis/ Leadóg
Every Thursday for five weeks we have been playing tennis. We are grateful to Mary Mc Morrow and the coach for offering us this wonderful opportunity free of charge. Míle Buíochas le "Club Leadóige Chluainín"
Tennis coaching will be starting on March 6th in the club for both adults and children. It will run for 5 weeks and will cater for beginners and improvers. Contact Mary at 087 2290136 for information.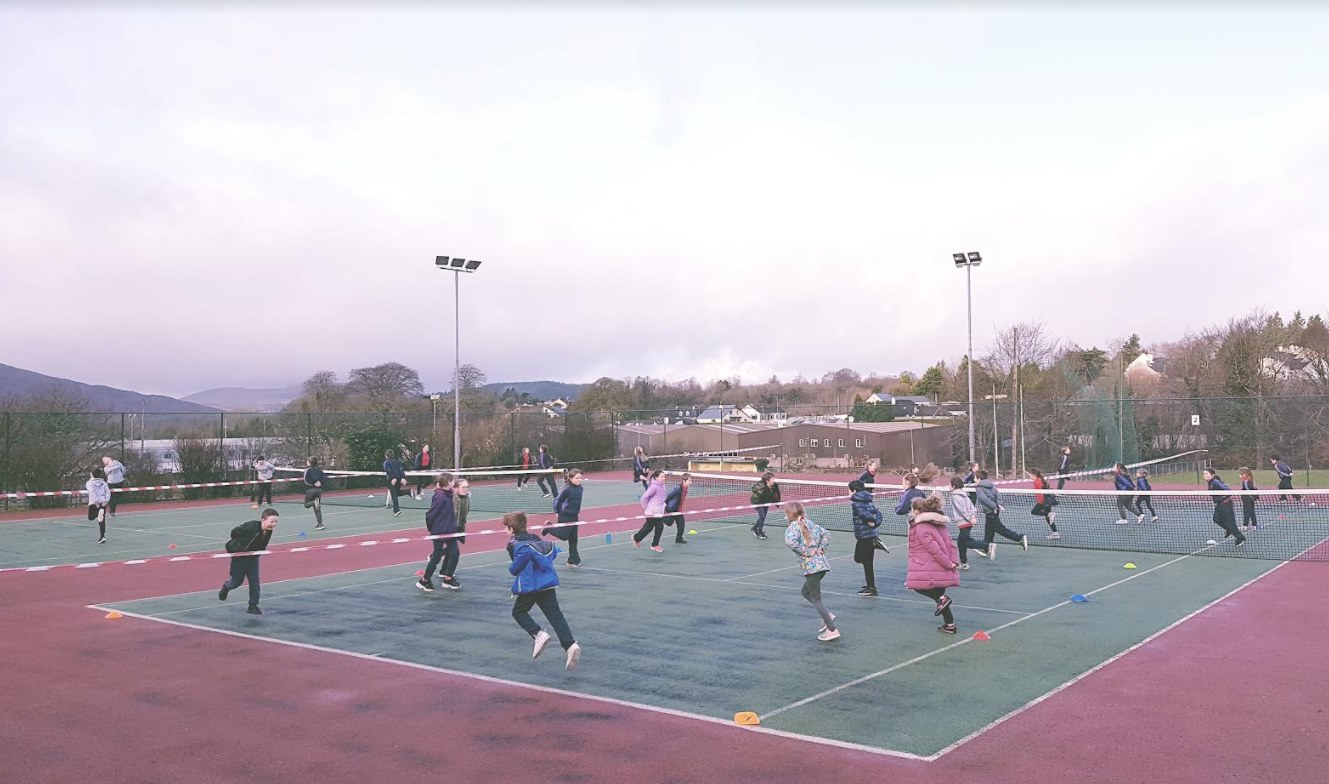 Comhghairdeachas leat a Lilly. A truly deserving county winner in the recent 'Someone Like Me' national Art competition. Enjoy your Certificate and Prize!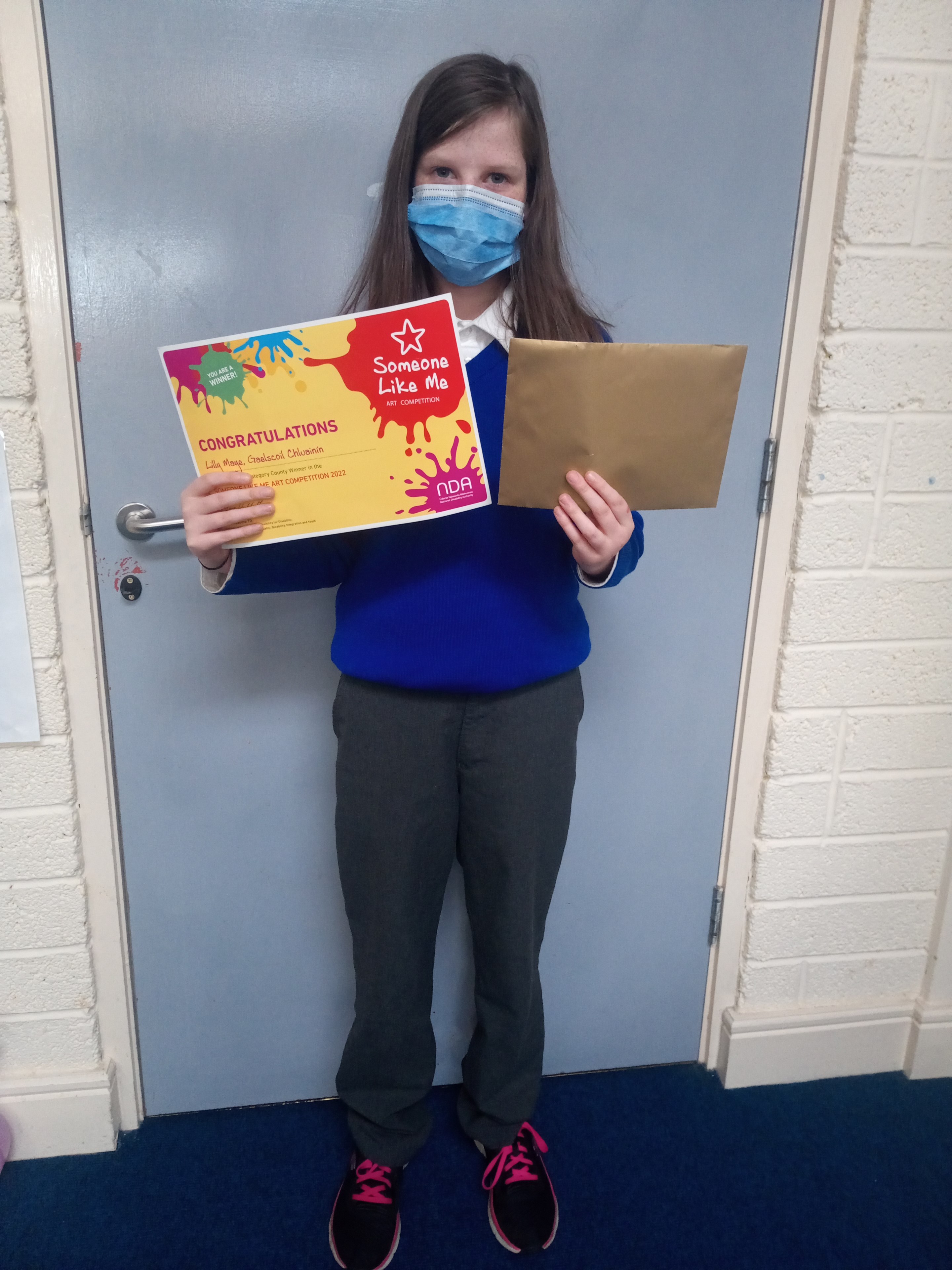 Incredibles sa bhaile – Incredible Edibles at Home
The school is entered in Agri Aware's Incredible Edibles Programme. Incredible Edibles is a healthy eating initiative for Primary School pupils. It encourages schools across the country to get busy growing carrots, lettuce, potatoes, strawberries, turnips and herbs. Schools are supplied with grow packs containing everything they need to grow a veritable feast of healthy foods! We will be participating in a number of tasks over the coming months. We are delighted to be part of this programme.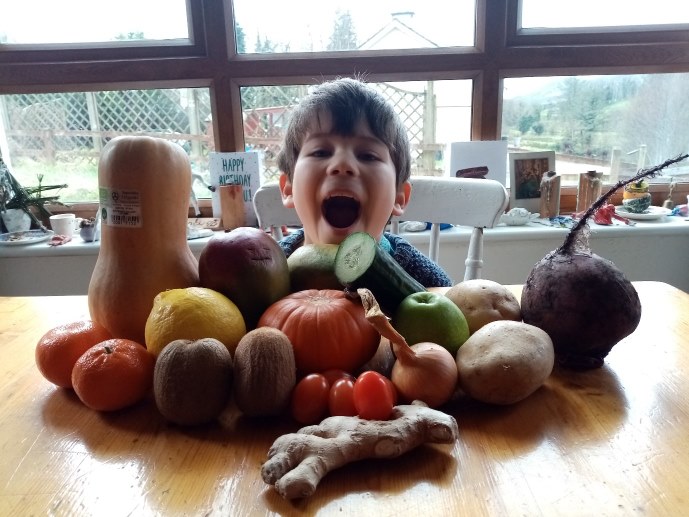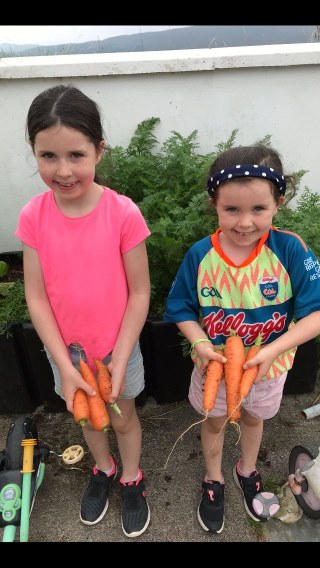 Lá Fhéile Vailintín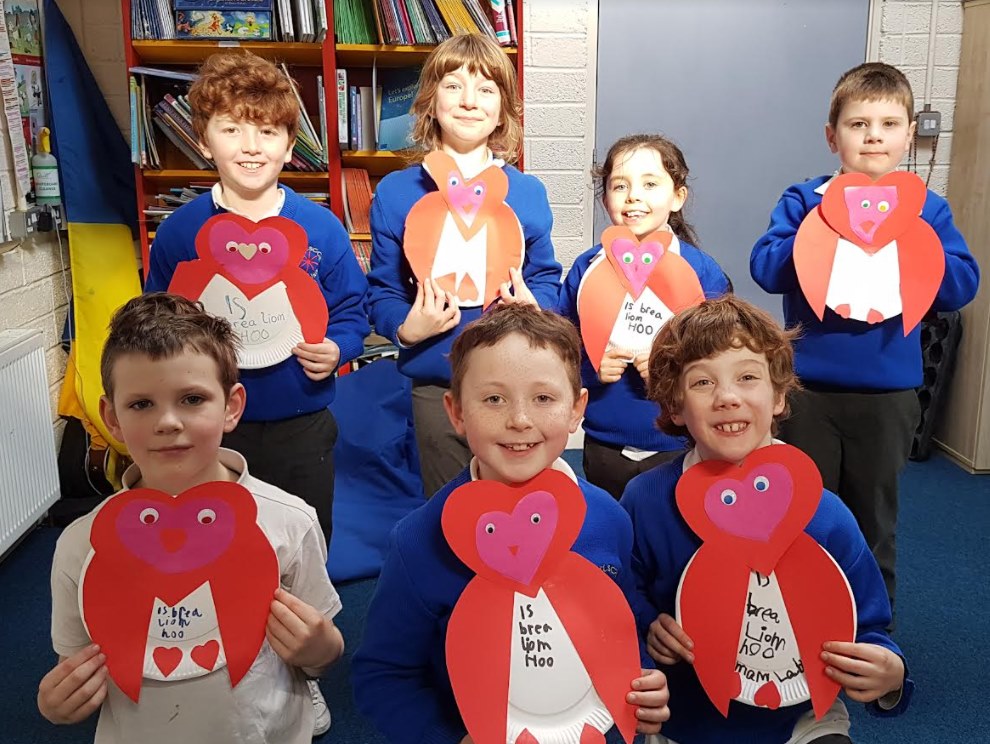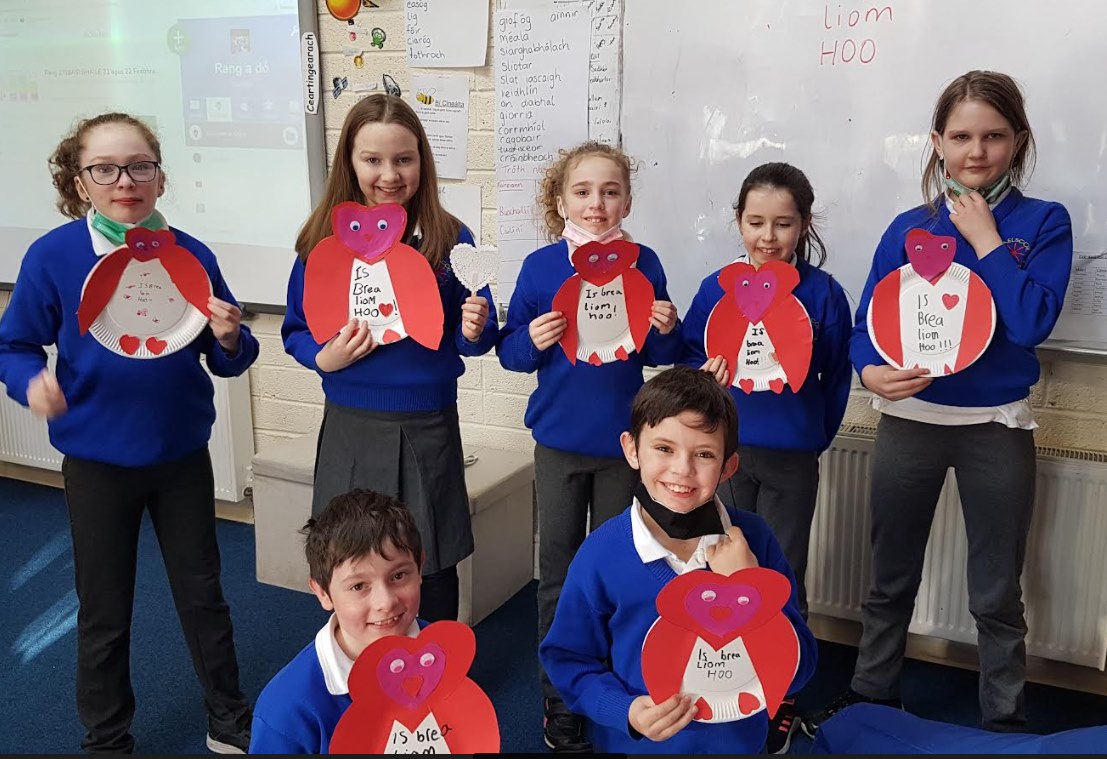 We have re-joined our cluster for Peace IV. For any new parents over the past two years- Gaelscoil Chluainín has been part of a Cross- Border Peace initiative for almost 5 years now. We are nearing the end of the programme. The other two schools in our Partnership are Belleek Controlled Primary School and St. John the Baptist Primary School Belleek. This year it is hoped to have an end of year show whereby all the children in the 3 schools will participate in song/dance/movement/drama. Rehearsals will take place during March, April and May. There will be more information available during March. But excitement is certainly in the air at the prospect of our end of year show!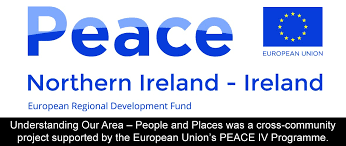 Green Flag
This year our Coiste Glas are hoping to win a third green flag for the school. In order to win the flag we need to show that we are conserving water and more aware of our usage of water in school and at home. We also need to show proof of our compliance with the requirements of Flags 1 and 2 which we were awarded in the past for composting, litter reduction and energy consumption reduction. More updates in coming editions.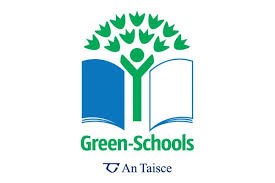 Upcoming- World Book Day Thursday March 3rd
All students are invited to dress up as a character of their choice. Failte roimh éinne atá ag iarraidh gléasadh suas mar characatéir as leabhar.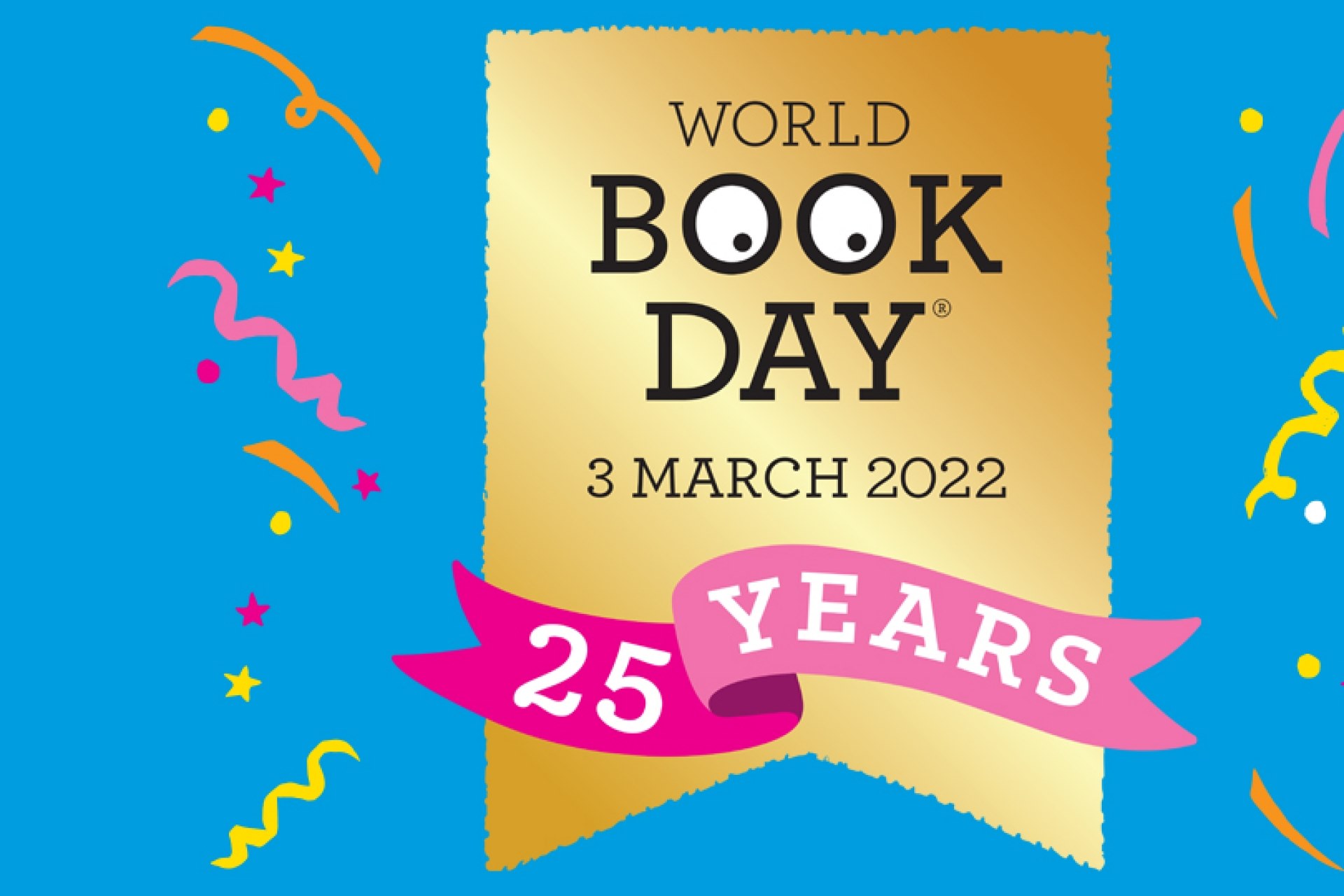 Upcoming- Trip to Organic Centre –
Friday 11th March
On Friday March 11th, we will travel to the Organic Centre for a Seed planting workshop with Stephen Campbell. We will also have a guided tour. All students will be required to wear their Wellingtons.