Agus muid ag druidim i dtreo na Nollag ba mhaith liom buíochas a ghabháil libh go léir as an tacaíocht ar fad a tugadh dúinn ó mhí Mheán Fómhair. Bhí téarma dúshlánach againn cinnte ach choinníomar linn.
As we approach Christmas and the end of a challenging yet fruitful term I would like to thank you all for your support since September.
We have endeavoured to participate in as many activities as was possible given the restrictions and we believe that the children both enjoyed and benefitted from so doing. We will do our very best to continue in that same vein throughout the school year.
Our children are wonderful and we are always so proud of each and everyone of them. They are growing up to be happy, resilient, mannerly and courteous young people who will no doubt go far!
Photos of Raffle by James Molloy
We were blessed with mild weather for our Christmas Raffle on Friday 3rd December. The students were delighted to welcome our special guests Felim Gurn, Mellissa Hewitt, Aoife Gilmartin and Trish Lonican. Karen Keaney was on hand to present her as first prize. Sinéad presented the second prize on behalf of her husband Joe McGoldrick, Centra, Dromahair. Kate Thornton and Ruarí Regan presented the third prize on behalf of their familys' joint business- North West Water Services.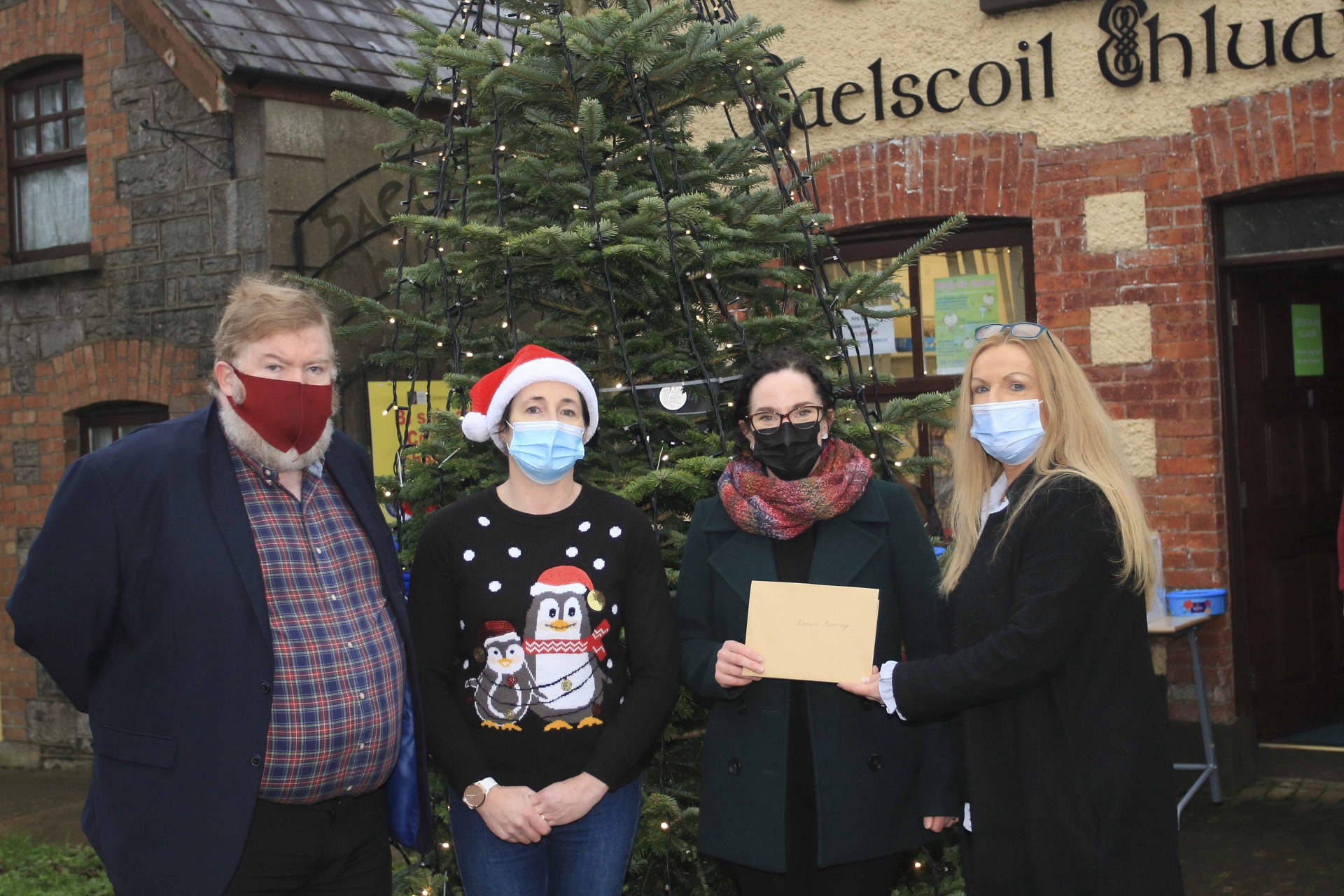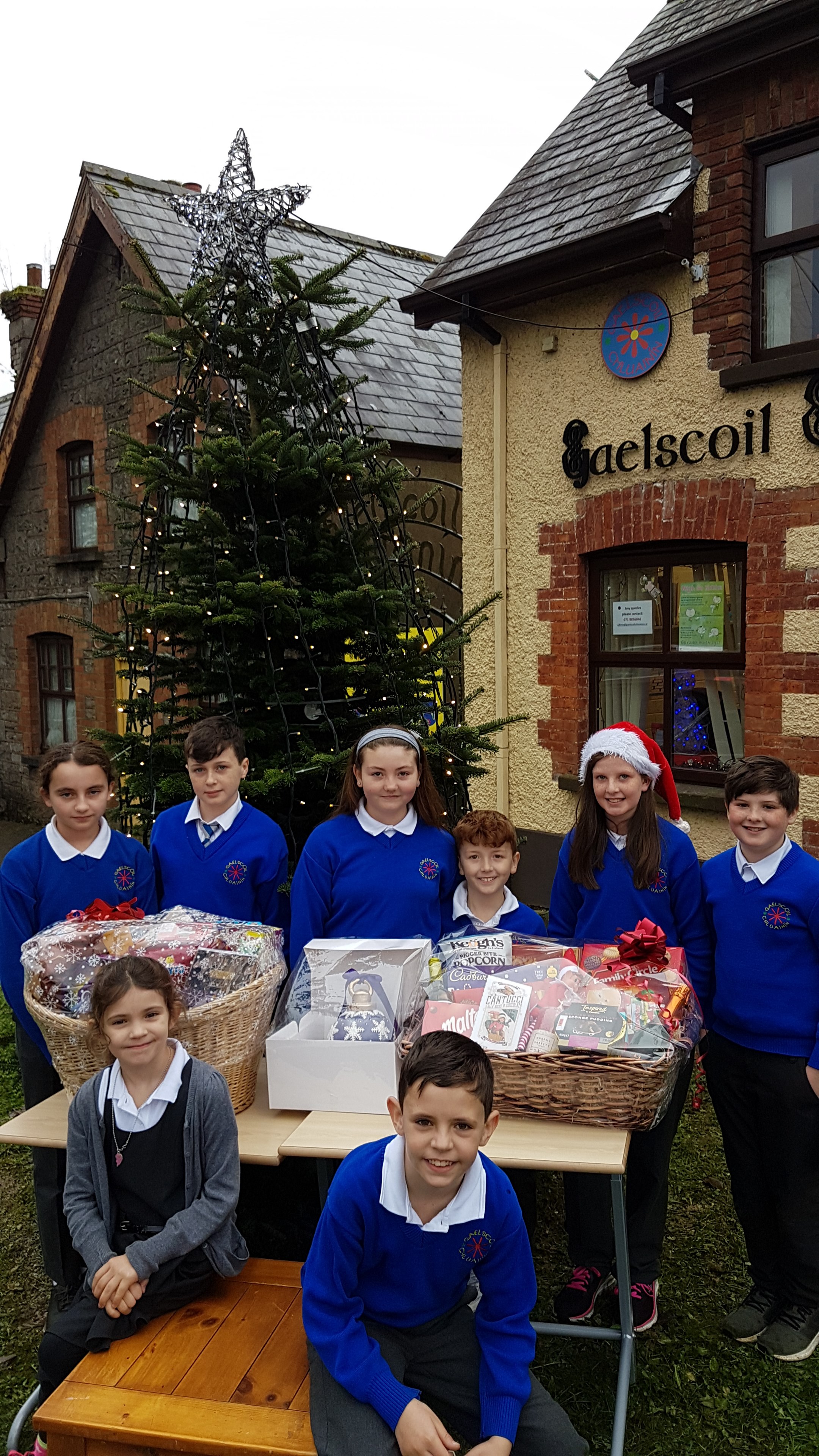 Pictured below are the winners of the Smyths' vouchers. These were won by the children who sold the most tickets in each class for the raffle. Well-earned a pháistí. Idir eatharthu dhíol na páistí seo nach mór leath an airgid ar fad a shaothraigh muid.
We look forward to spending the profits wisely, investing in a new scheme of Irish readers for all classes, and some new English readers/ novels for the libraries in each room. We will have a definite update on this in our January/ Feb edition.
Gabhaim buíochas ollmhór le foireann na scoile iomlán as ucht na hoibre ar fad a rinneadh ó d'fhilleamar. Your dedication to the children and the school together with your co-operation and friendship knows no bounds. Buíochas ó chroí le: Mairéad, Andrea, Searán, Caroline, Susan, Róise agus Máirín.
Guímís gach rath oraibh uilig don Nollaig and athbhliain faoi shéan agus faoi mhaise dhaoibh go léir.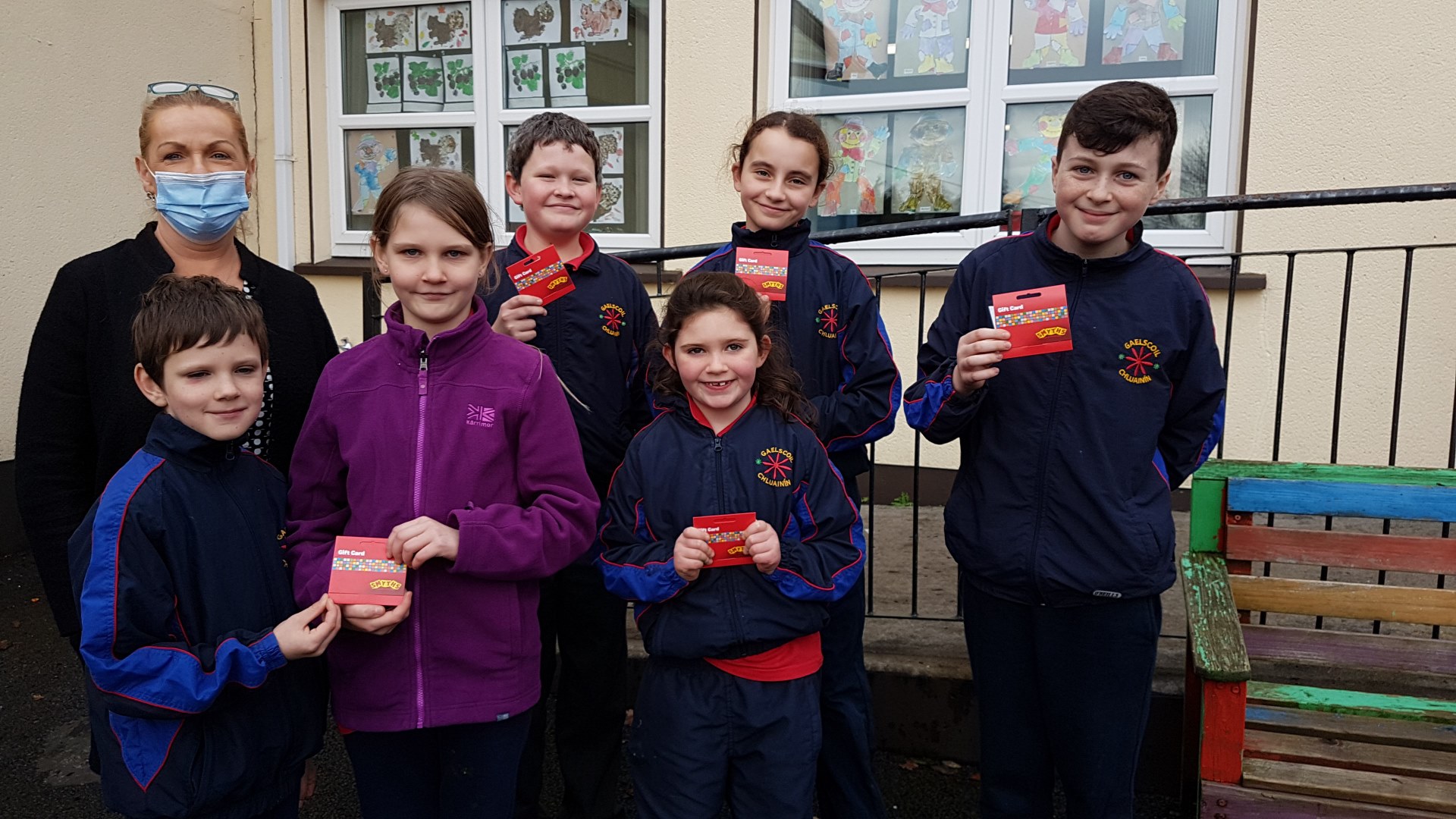 Christmas Fair / Margadh Nollag
We had great fun with our stall at Manorhamilton Farmer's Market and in the process we collected some much needed funds to put towards Caz-Cards charity drive for the NW Hospice. We would like to thank all the organisers in the Bee Park, the other stall – holders and everyone, who gave a good home to a penguin/ snowman.
Especially a big shout out to Múinteoir Shearán and her class who worked diligently to produce over 90 snowmen and penguins.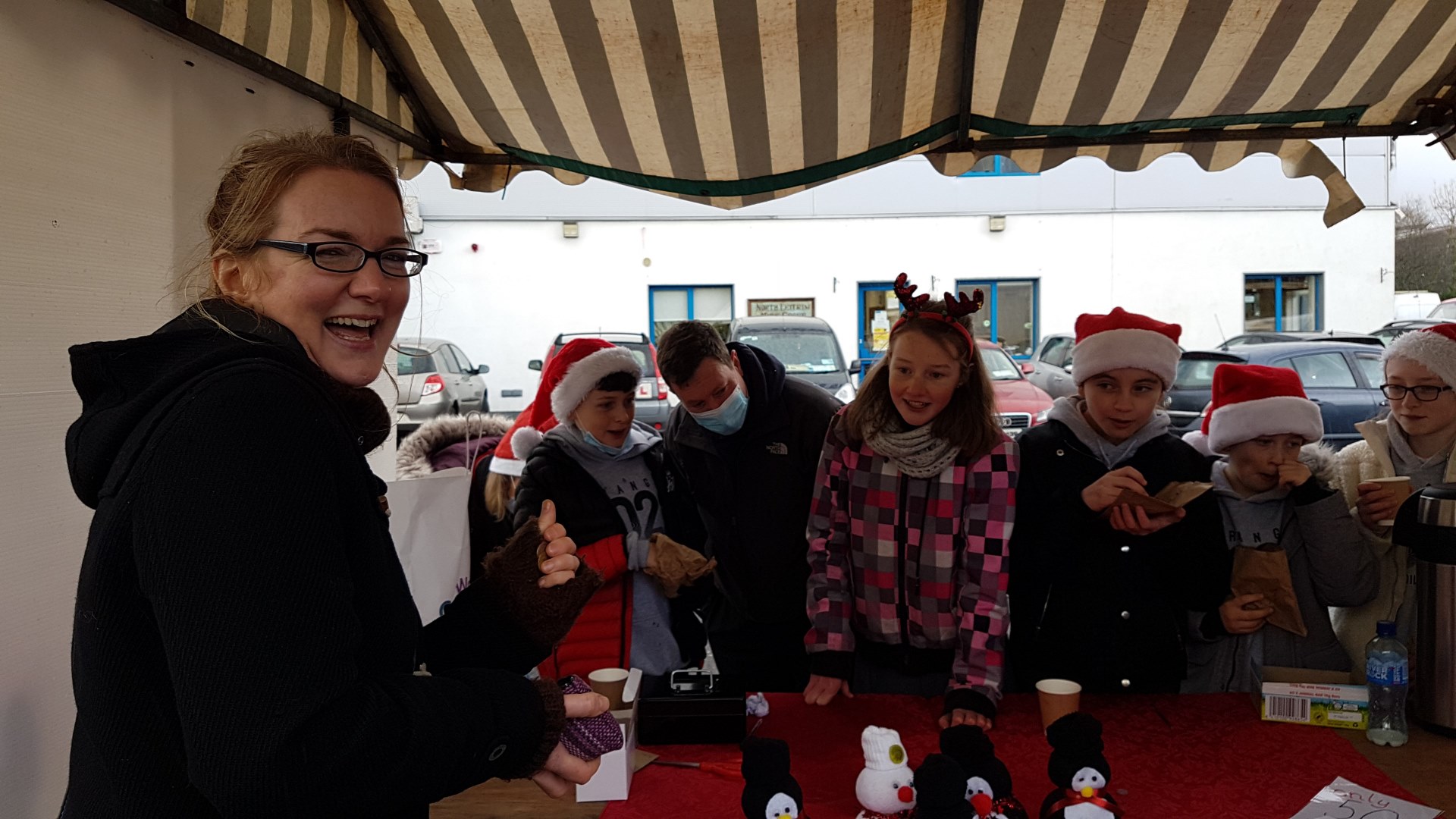 Carúil na Nollag ag Cafe Fulacht Fiadh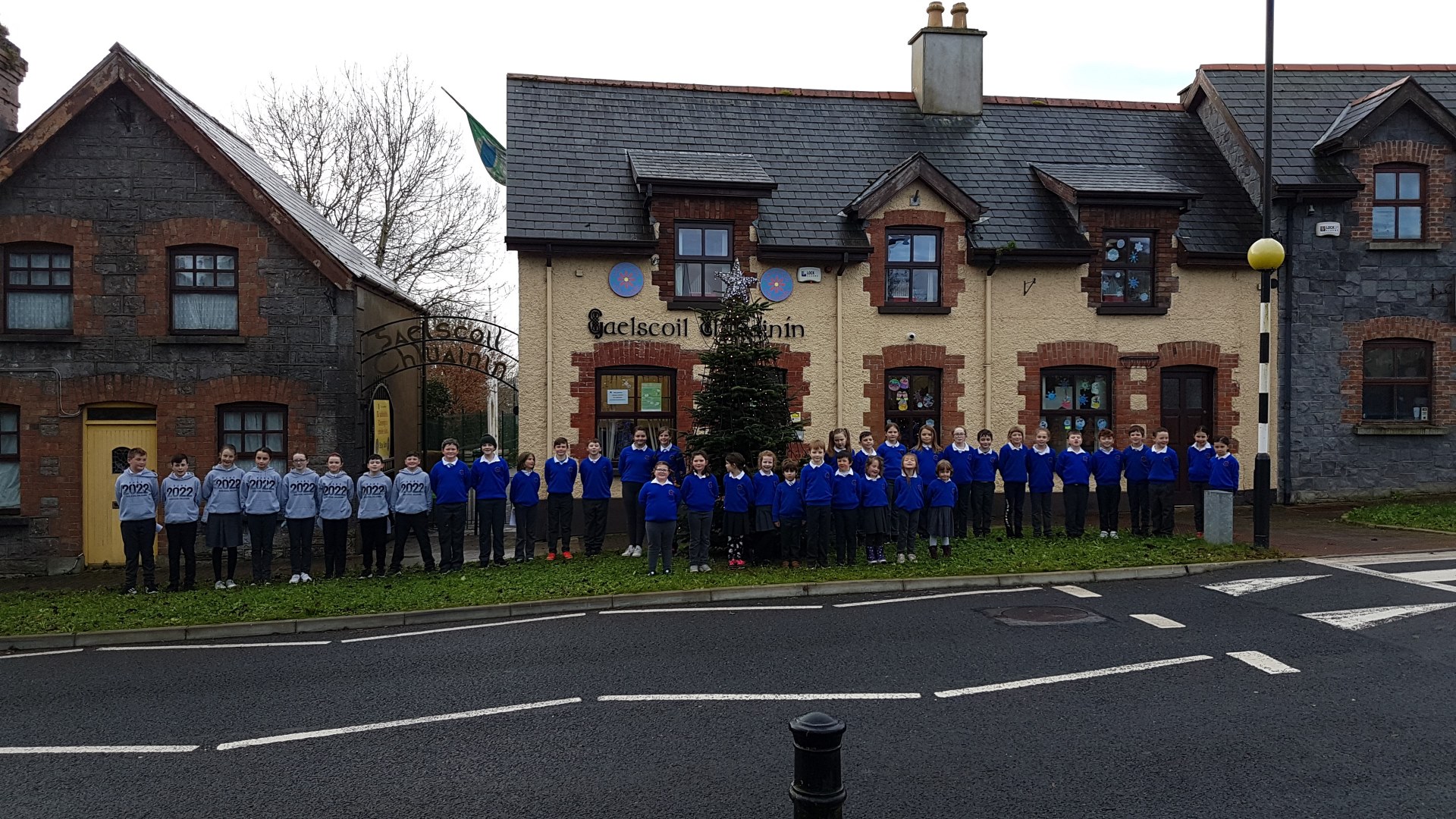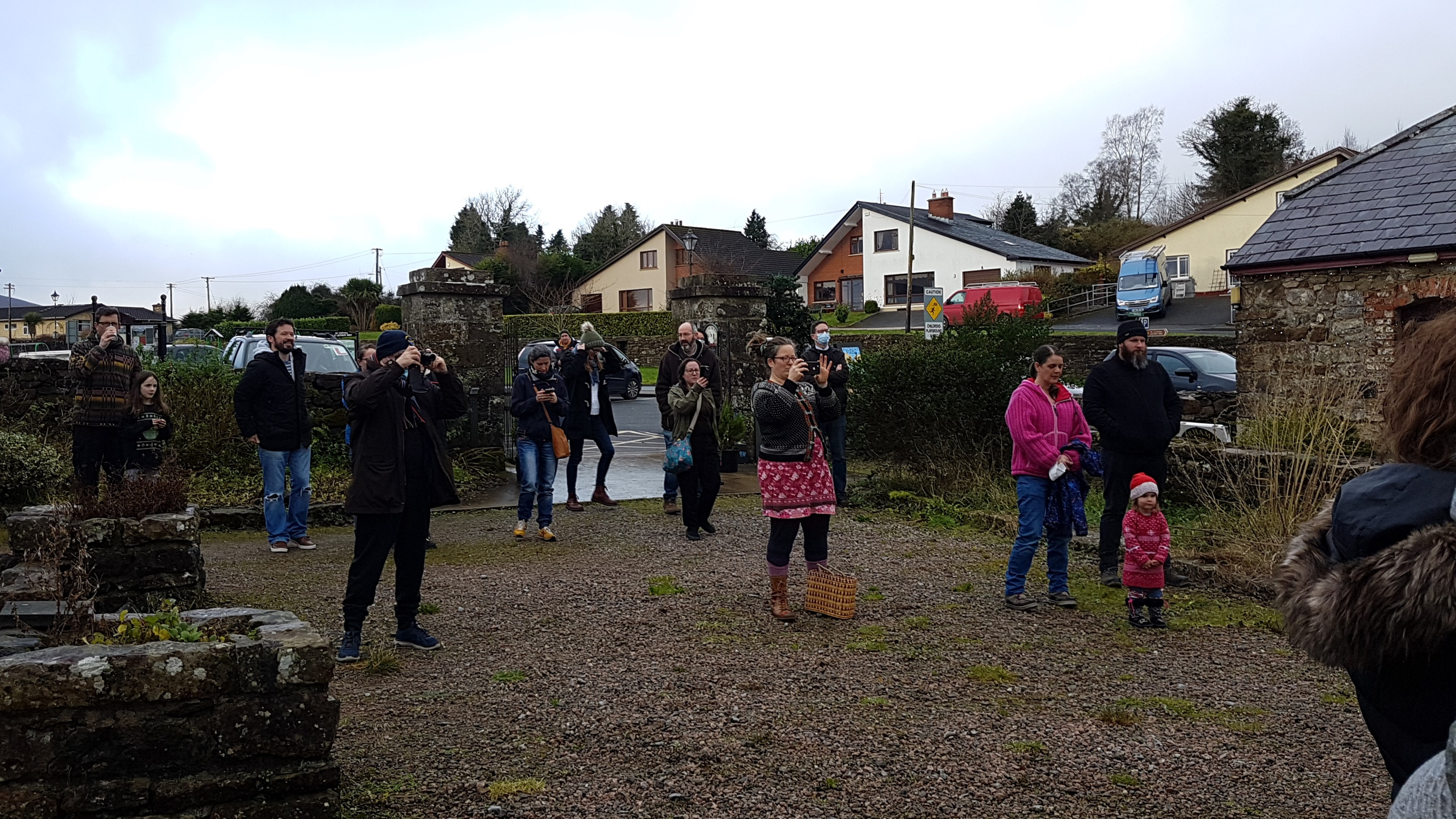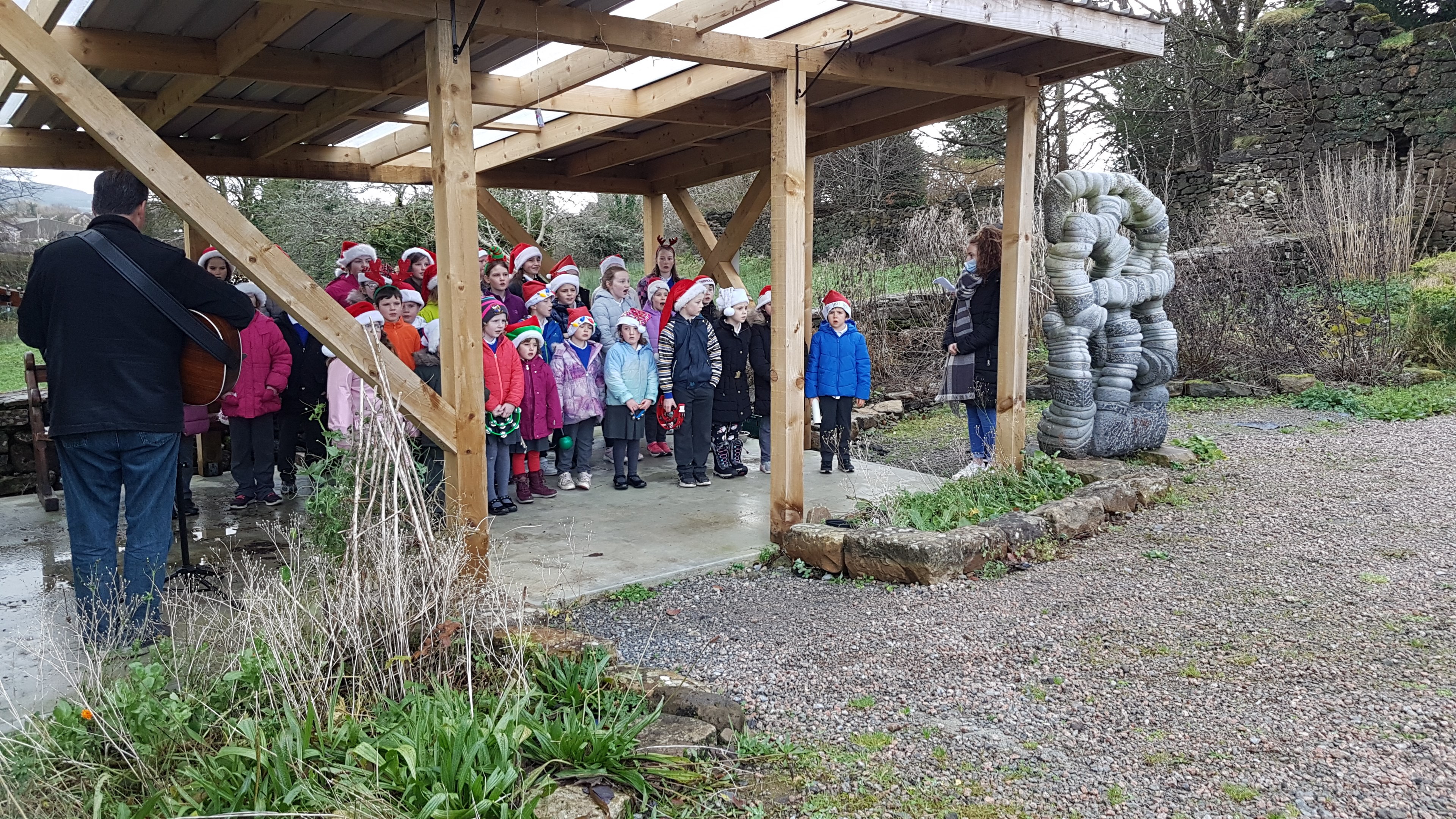 Tidy Towns Tree Planting
The children planted a native Irish Tree in conjunction with Manorhamilton Tidy Towns. In total 150 Native Irish Trees have been planted in the area- helping with Biodiversity. Well done to the Tidy Towns Committee. Míle Buíochas as an gcuireadh.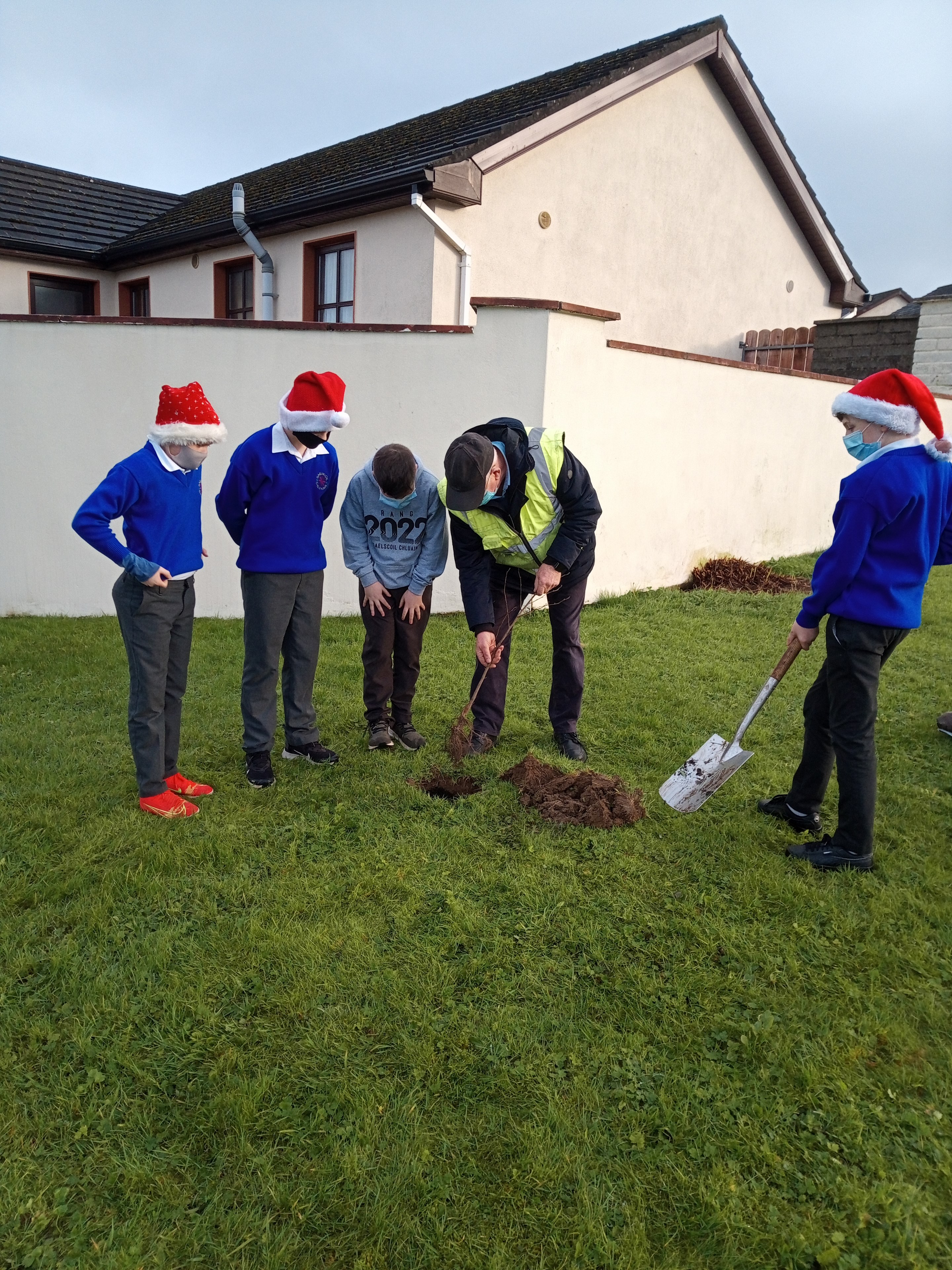 Aoibhín ar ais ar Thaithí Oibre.
Bhí sé iontach Aoibhín a fheiceáil ar ais ar thaithí oibre linn. Tá togha na Gaeilge labhartha ag Aoibhín agus bhí sé álainn í a fheiceáil ar ais i mbun oibre . It was wonderful to have Aoibhín back with us on her LCVP work experience week. She fitted in so well with us all and we are very proud at the way she participated in all the activities during the week. Thug sí an-thacaíocht dúinn leis na fir sneachta a chur i gcrích agus an chabhair a thug sí le San Nioclás mar Síofra na Nollag. Míle Buíochas Aoibhín agus ádh mór leat sa todhchaí.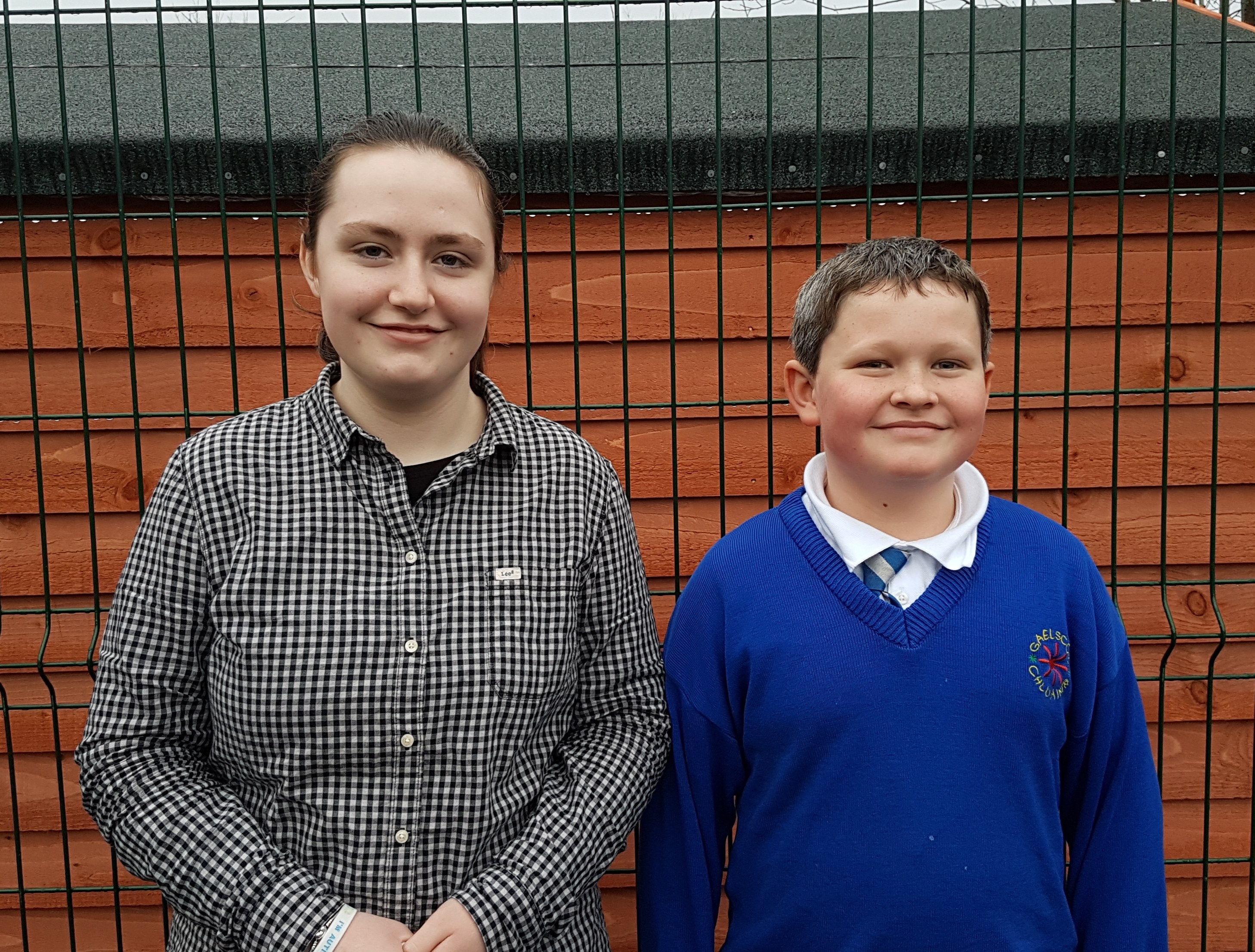 Toy Theatres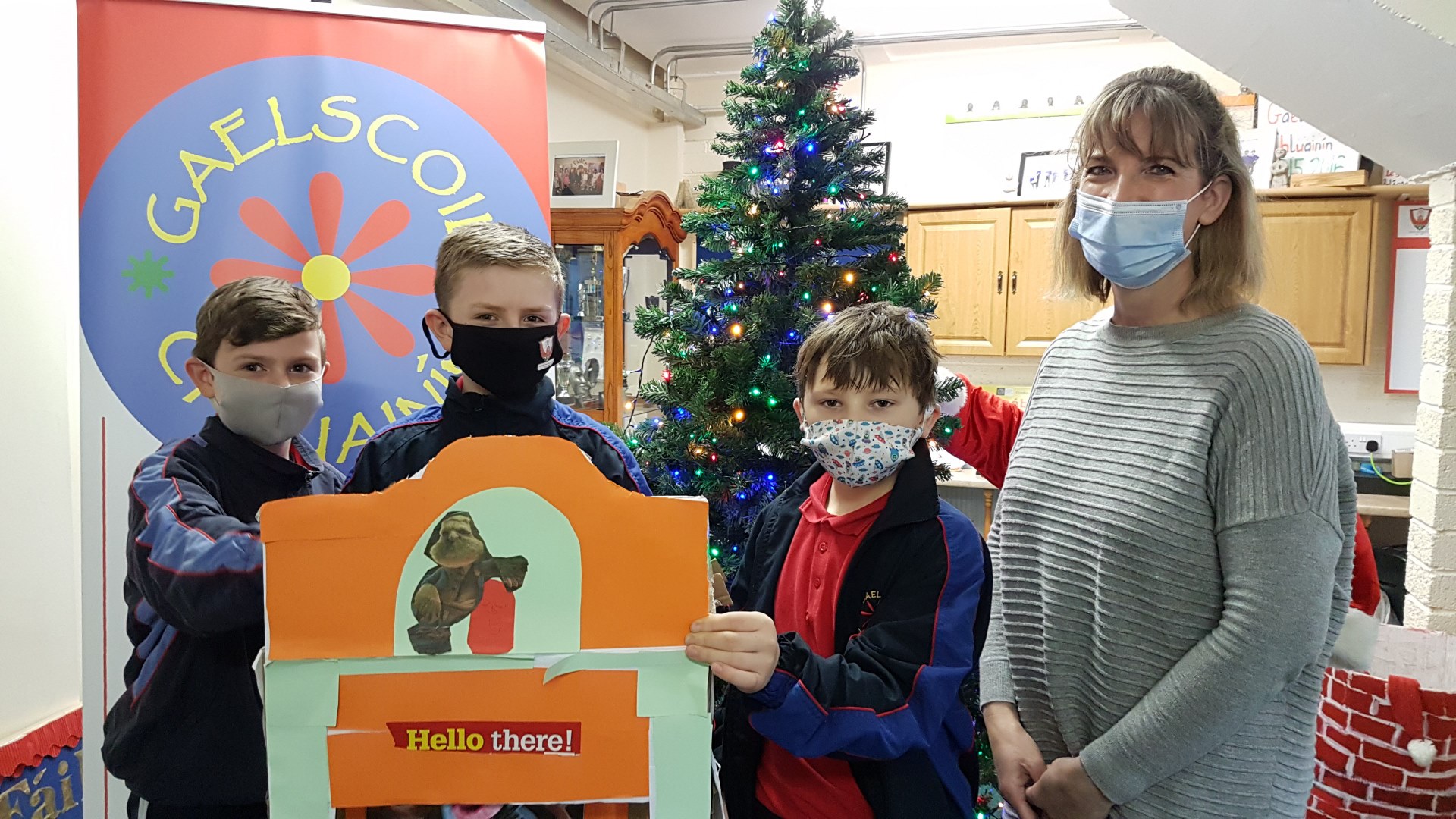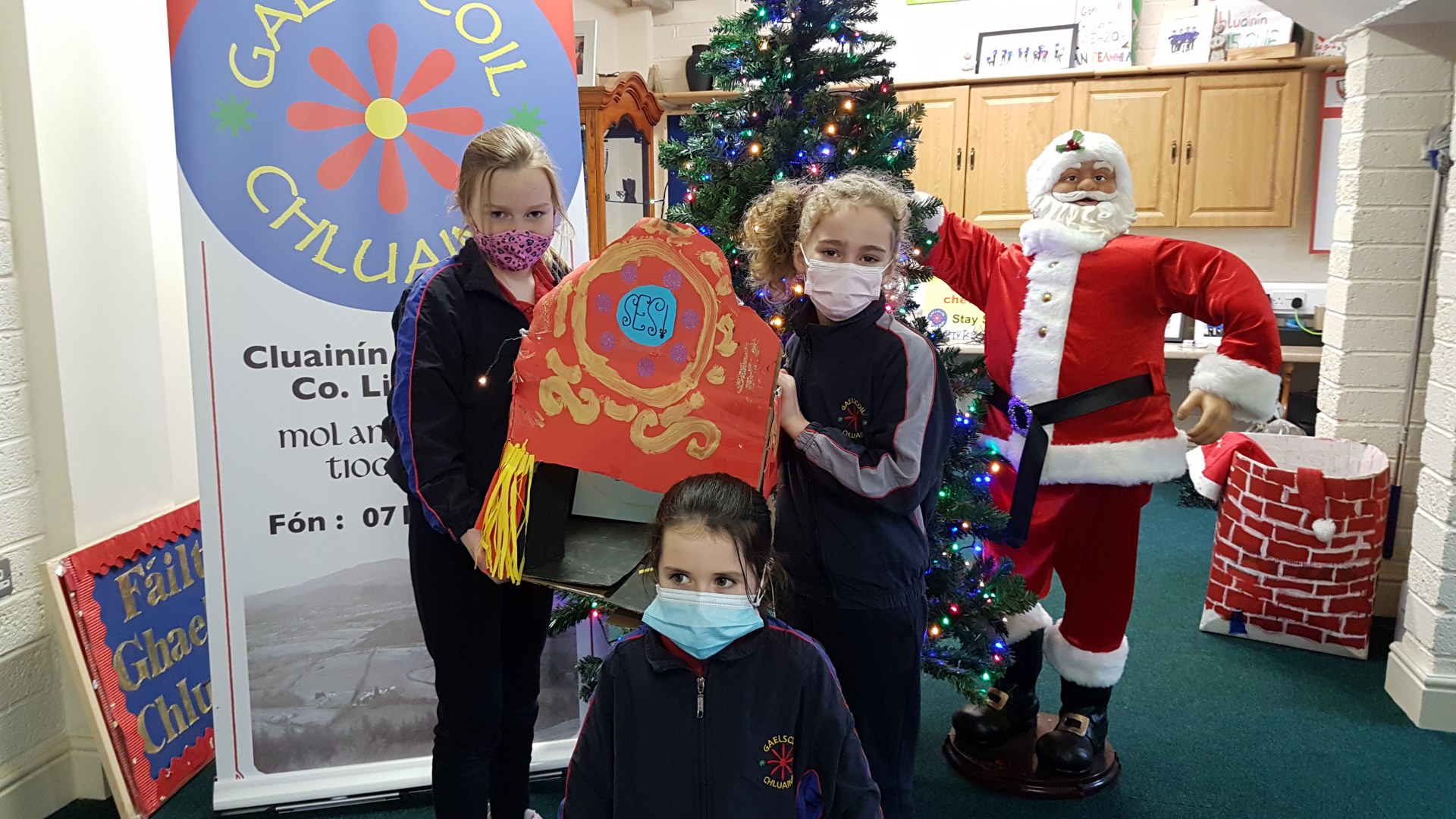 Someone Like Me Art Competition
Below you will see a few of our entries for the Someone Like Me Art Competition which was launched by Minister Anne Rabbitte.
The Minister encouraged all primary school pupils across Ireland to learn about inclusivity and diversity through the medium of art. The Minister stated that: "One in seven people in Ireland has a disability and research shows that persons with disabilities report more social isolation and less participation in social activities than those without a disability
We hope you like our attempt to express our thoughts on this topic through our drawings.

Ár nGradaim – Our Awards